Discover more from Tech Buzz China Insider
Deep dives into the most interesting companies and trends in China Tech, including internet, software, EVs, and more. In cooperation with Six Degrees Intelligence.
Over 4,000 subscribers
12/5/22: Temu - Pinduoduo's Cross-Border E-commerce Platform
View this email in your browser

Insider Digest 12/5/2022: Temu - Pinduoduo's Cross-Border E-commerce Platform
Housekeeping / Announcements / Fun:
The below piece is written by Ed Sander and Freya, and edited by myself, and is based off of Tech Buzz's partnership with Six Degrees Intelligence, a leading global expert network / quantitative research firm that operates in China. The next piece, which has already been written, will be on Luckin and its latest business updates.
As a reminder, you are not being charged for this note nor anything for the rest of the year, although we are targeting January 2023 as the resumption of our paid membership.

As before, all of the information shared below, unless linked to an external site, are gleaned from multiple proprietary expert interviews you will not find elsewhere! Therefore, I ask that you please do not share this information with anyone outside of your investment organization. Let me know of your feedback!

A reminder that if you would like a free trial to the full database of expert transcripts, please reply to this email. It is, however, currently only available in Chinese.

The Discord server remains very active and open, so do please check in there if you haven't. Thank you so much to all of you who participate and share regularly there, I've learned a ton.

Temu - Pinduoduo's Cross-Border E-Commerce Platform
Background:
The domestic U.S. e-commerce market has been stable for many years, with most of the market divided between three players: market leader Amazon followed by eBay and traditional retailer Wal-Mart. However, after many Chinese merchants were banned from Amazon for violations of rules on reviews and ratings in 2021, some of them have gone on to sell on eBay and Wal-Mart, both of which have seen rapid growth in the first half of this year and chipping away at Amazon's dominance. Thus while Amazon's growth remains robust, Chinese sellers in particular are actively seeking other platforms and adopting a multi-channel strategy instead of solely relying on Amazon. Enter Chinese players such as TikTok, Shein and the subject of today's piece, Pinduoduo's Temu app, which has not dropped below the top 5 on iOS US Appstore since November 7, 2022, and has held the top spot for most of that period.
Introduction to Temu
According to LatePost (link in Chinese), PDD's cross-border project was first considered as a new growth strategy in January 2022 and the project was officially launched in May this year. PDD staff were sent to Europe and the US to do market research and learn about local consumer habits and logistics. In June PDD had internal meetings on product categories and outsourcing of logistics. An 80-person supply chain team was established in Guangzhou, but according to LatePost there was no other dedicated cross-border team at that time.
Temu Facebook page became operational on August 14th, while Temu's website and app were launched on the 1st of September in the U.S. The launch was a full month earlier than originally rumored and upon launch the rush showed in the many flaws the app and website still contained.

Since Temu claims / is reported to be emulating Shein, no surprise that it decided to go after the US as its first market, also Shein's largest. If we are to go by Shein's track record as laid out in our deep divetwo weeks ago, then Europe and the Middle East / LatAm could be next on the list. Southeast Asia is Shein's weakest market due to over-saturation of Chinese players there.

Despite the name Temu, an acronym for Team Up, Price Down!, the platform has not rolled out the well-known group-buying model of PDD, instead relying on large discounts, coupons, and traditional marketing through online channels for customer acquisition.

Temu's advertising budget was RMB 1 billion in September. It has reserved RMB 7 billion for brand promotion in 2023.
At the end of October 36Kr and others reported on Temu's performance:
Average daily GMV had surpassed $1.5 million (slightly below internal expectations)

30,000 merchants, selling 300,000-400,000 SKUs in 24 categories

Target GMV of $300-$500mm by year's end, $3 billion GMV in 2023 and catch up or overtake Shein in 5 years with an annual GMV of $30 billion (Shein's GMV in the first half of 2022 was over $16 billion), and this is also similar to eBay's annual GMV.

30-day repurchase rate is 10%, slightly higher than Temu's competitors.

60,000 daily active buyers

Average order value is $25, up from $6 initially (compared to Shein's $75 in the second quarter of 2022).

Owing to heavy discounting and free shipping, average loss per order is currently estimated to be $30.

The number of employees has grown from 200 at the start of September to 700 two months later. LatePost reported that PDD moved some first-level managers from Duoduo Maicai to Temu
Focus on the Supply Chain
PDD has a strong supply chain ecosystem consisting of 11 million suppliers.
Temu has recruited both personnel and merchants from Shein. The initial group of merchants numbered 300-400. While Temu build business relationship with them, it required the merchants to provide goods that:

were different from those on Shein (Still, an early September LatePost reported how Temu showed an item that had a Shein label attached to it.)

could not be found on other platforms

were not replicas or counterfeits and unique on the U.S. market. (Some counterfeits can still be found on Temu. Merchants try to get away with this by making minor changes to product designs.)
The second group of merchants consisted of sellers of electronics, small appliances, pet products, jewelry, and accessories. While there are now tens of thousands of merchants selling these popular categories on Temu the barriers to entry are high; only 10% of applicants that prove to be competent in supply chain management, product design, R&D and/or pricing are accepted.
How Temu Operates
Sales: While Shein originally started with just apparel products, Temu immediately kicked off with a wide assortment, much of which mirrors Shein's current offerings: female fashion (60%), electronics (40%), small appliances and pet products.

Subsidies: (e.g., one cent items, a direct copy of Pinduoduo's domestic marketplace), which Temu finances for the merchants and promotes to attract new users.
Profile of the Temu customer:
Gender: 55% male, 44% female

Age: 18-20 ~17%, 25-34 ~32%, >34 51%

Geography: evenly spread across the U.S.
Marketing Channels:
The high percentage of organic traffic can be explained by people sharing low priced items ($0.01 or $1.99) in groups and social media and thereby attracting other people to Temu.
Acquisition Channels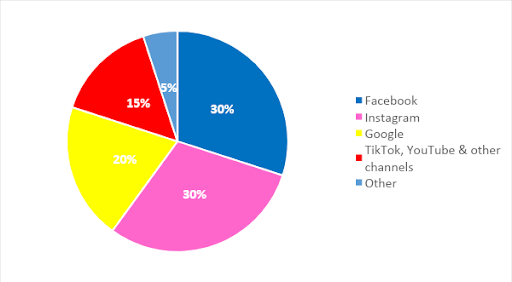 Shein's customer acquisition cost was approximately $35 in the first half of 2022. Temu's is 30-40% higher. China Renaissance has even estimated Temu's CAC to be $75 and calculated it needs to spend $1.4 billion a year to quickly expand its U.S. customer base. Note that Pinduoduo has committed $1Bn to branding, but that is likely not just for the US market nor the annual budget.
Logistics: Works similarly to Shein. Temu has no warehouses in the U.S. Instead, it uses cargo airlines and ships goods from its transshipping warehouse in Zhaoqing, Guangdong to the east and west of the U.S. Domestic companies like USPS pick shipments up at the transshipping depot and deliver them to the consumers, costing on average $3-$5 per package.
Merchant Terms:
Merchants are required to price their items within ranges determined by Temu, which are typically in line with Shein, and cheaper than Amazon / eBay.

Profit: LatePost reported that in September, Temu gave merchants of fashion items only 1 RMB margin per piece. Merchants that sell more than a dozen items a day would be given a more prominent position, with Temu promising them hundreds of orders per day if they would further decrease their prices.

Cost: merchants do not have to pay fees and commissions to Temu, at least as of now. They only pay shipping costs from their own origin warehouses to Temu's warehouse in Panyu, Guangzhou and all promotional cost to generate traffic are also financed by Temu.

Merchant Logistics: Temu had recently changed the supply model from merchants keeping stock in its Guangdong warehouse to 'just-in-time' (JIT) delivery with merchants in provinces around Guangdong. Participating merchants are asked to deliver customer orders at the warehouse within 24 hours after receiving a daily list of orders between 8:00 AM and 4:00 PM. Merchants have to use SF Express (most expensive but speediest) for delivery. When failing to deliver in time, Temu will penalize a merchant with the value of the item. If delivery is more than 48 hours late, the penalty will be five times the value of the goods.

The JIT system should reduce logistical costs for Temu, while merchants now need to bear the costs of potentially more frequent shipments based on actual customer orders.

Payment Terms: According to Temu's cooperation policy, it does not need to pay merchants until an overseas customer has confirmed receipt of their order. Temu can also return unsold goods to merchants, limiting inventory risks.
After Sales: Temu tends to let customers keep those low-priced items and gives a refund (store credit) or replacement; costs of return shipping would be higher than the value of the item itself.
Recent Developments:
At the end of October Linkshop reported that Temu had launched its app in Africa, although it is not operational there and is only available for download. In November LatePost reported that Temu was considering expanding to Canada and Spain. If we had to guess, LatAm and the Middle East are much more likely expansion areas, along with Europe.
Areas for Improvement:
Unlike Shein with its integrated supply chain, Temu is a marketplace, albeit one that is much more managed in nature versus say, an eBay. Therefore, most near-term improvements to profitability or customer experience are going to have to come from more efficient customer acquisition, logistics, and after-sales.
Customer Acquisition: While not yet offering the group-buying functionality in Temu - according to Latepost because the target markets are not used to it - Cailian Press recently reported that PDD is planning to add an incentivized referral feature to Temu, giving users a lower price when they share product links through Whatsapp, Messenger or Facebook, in the same vein as WeChat social sharing for the core Pinduoduo app in its early days.
Logistics: The costs of the first part of shipping (see figure) could be reduced by 2/3rd if Temu can generate more orders and book a whole cargo flight. The costs of the second part are more difficult to bring down as Temu does not have much bargaining power with local U.S. delivery companies but could potentially still decrease by some 30% when and if it does (similar to Shein).
If Temu continues to grow rapidly and wants to become a serious player in the U.S. market, it should invest in 6-7 transshipping depots (typically starting with a main one in LA) across the U.S. If these depots would have enough stock, delivery to customers in surrounding states would only take 2-4 days. Currently, Chinese cross-border e-commerce companies normally set up an overseas warehouse when their GMV reaches $100 million, which Temu has likely already exceeded.

Will Temu Succeed?
Compared to Pinduoduo's domestic business, Temu does not have a partner like Tencent abroad. Tencent's WeChat has been instrumental in the early success of Pinduoduo's customer acquisition strategy. Not only did Tencent invest in PDD in 2016, it also gave it access to its enormous WeChat user base, which was already around 800 million large at the time. What's more, a large part of PDD's sales is still generated through WeChat mini programs.
Still, Temu isn't the first cross-border e-commerce venture in the PDD legacy, as LatePost recently reported. Like competitor Shein, PDD founder Colin Huang and other PDD managers have been active in selling wedding dresses abroad (JJsHouse.com), a fast-fashion company second only to Shein in 2017 (Mocan, with brands Floryday, Azazie and Vova) and even an overseas gaming company (Youta). According to LatePost the PDD executives remain good friends with some of their former business partners in these companies.
Temu is also facing logistical challenges as reported by LatePost. Overseas logistical costs are much higher than in China. For Amazon they account for 27% of sales in the U.S., while they only account for 6% of JD.com's in China. In the meantime, Temu will not only compete with Shein, Alibaba and other Chinese platforms that are starting to flood western markets, it also competes with Amazon.com, which has an estimated one million active Chinese merchants on its marketplace. The bullish view is that even if Temu doesn't make much of a dent against Amazon, it doesn't really have to. It can greatly expand the tier of of e-commerce activity in the customer segments below the Prime-addicted household, and just like Pinduoduo itself showed in China, and Shein in the rest of the world, there are more of these users than we think. Will regulations such as changed logistics or customs rules threaten that business model? Yes, but until then, Temu has its work cut out in terms of lowering its acquisition and fulfillment costs and increasing buying frequency. Succeed? Hard to say. Has it been very successful so far, just three months in? Yes, despite reportedly falling behind internal projections, it's probably not very far behind.

Have any comments or questions? See you on the Discord server!
Copyright (C) *|CURRENT_YEAR|* *|LIST:COMPANY|*. All rights reserved.
*|IFNOT:ARCHIVE_PAGE|**|LIST:DESCRIPTION|**|END:IF|*
*|IFNOT:ARCHIVE_PAGE|**|HTML:LIST_ADDRESS_HTML|**|END:IF|*
Update Preferences | Unsubscribe
*|IF:REWARDS|* *|HTML:REWARDS|* *|END:IF|*